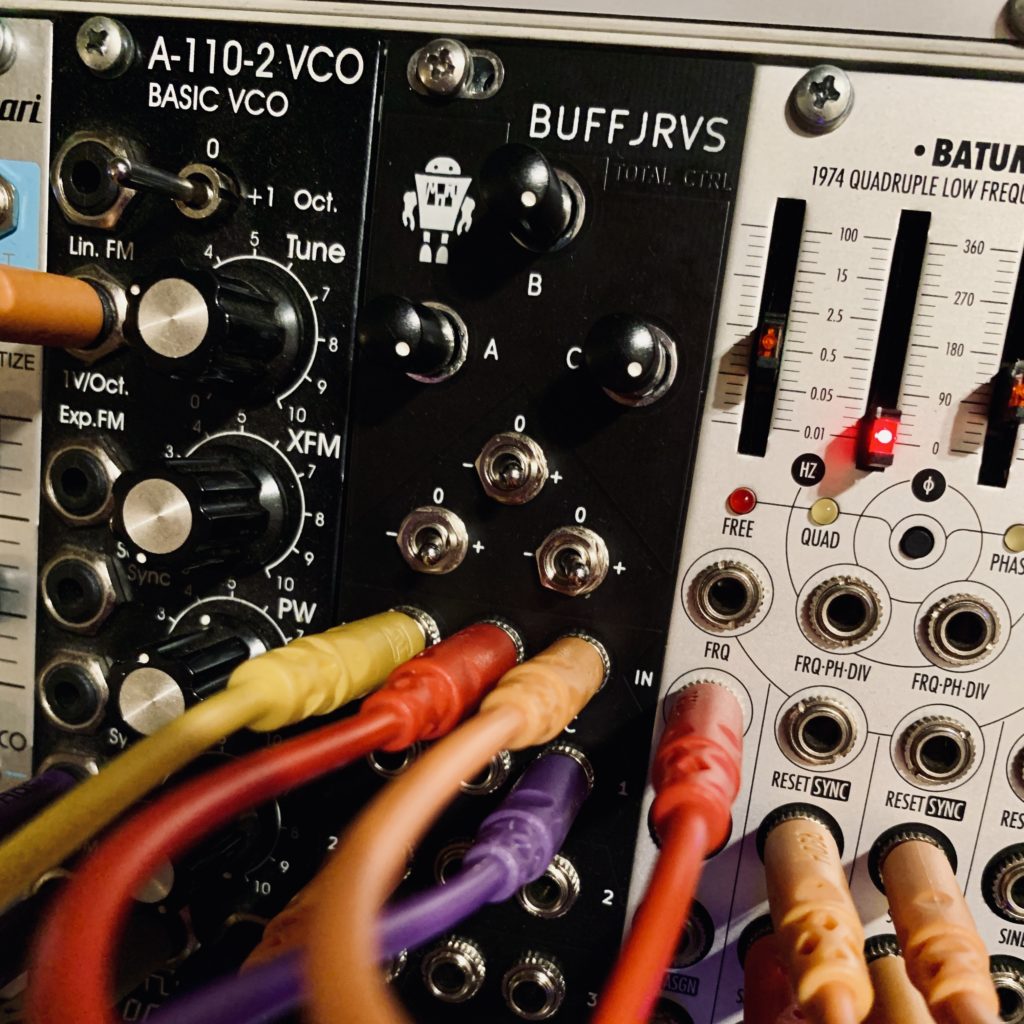 Meet BUFFJRVS.
Your Eurorack modular synthesizer is loaded with modulation possibilities. Dozens of control inputs; each needing a signal to wiggle it. Each control expecting a different range of voltage. You'll find that things get so crowded, you need a remote control for those hard to reach knobs! And sometimes you just want everything to stop with the flip of a switch. Very soon you learn that duplicating, reducing, inverting, offsetting, and muting signals is the key to repeatable and nuanced modulations.
BUFFJRVS was built precisely for these reasons.
He's a
3 channel
,
9 output
, voltage pal for your Eurorack synthesizer. His turn-ons are
inversion
,
attenuation
, and his turn-off is
muting.
Weighing in at a svelte
 10HP
, with a skiff friendly backside (don't tell him), this little guy can find his way into the tightest racks.
Each channel can attenuate, invert, and mute CV and audio signals. As a multiple, it's buffered outputs let you route 1-3 signals to 9 destinations. Without input signals, you can produce 3 separate CV offsets from  -10V to +10v. Use this macro-control to manipulate multiple modules or module parameters simultaneously. All input signals cascade from output jack A1, through the B channel outputs, terminating in output C3. If nothing is present at input, a 10v offset is present at the outputs. If a channel's switch is down, it is removed from the cascade ("Independence"). If the a channel's switch is up, it joins the cascade ("Voltage Calculator") and the channel A knob governs the primary gain.
The Voltage Calculator is operated as follows:
IF A=5v, then  B=5v, when Channel B's potentiometer is at full clockwise (0 attenuation).
IF B=5v, then  C=5v, when Channel C's potentiometer is at full clockwise (0 attenuation).
Changes made to a channel's potentiometer will affect the next channel in the chain.
IF A=5v, then  B=2.5v, when Channel B's potentiometer is at 12 o'clock  (50% attenuation).
IF B=2.5v, then  c=1.25v, when Channel C's potentiometer is at 12 o'clock  (50% attenuation).
 CHANNEL A'S POTENTIOMETER FADES ALL CHANNELS.
"This is a pretty fantastic utility, it attenuates and mults and inverts, and comes with switches making it playable. I pair mine up with Batumi for modulating everything, but I also love throwing an S&H signal at it to attenuate, and send that to a quantizer for random melodies with fixed harmonies. The possibilities are limited by your imagination. This thing has definitely found its way into most of my patches, as of late."
"The BUFFJRVS is deceptively simple. When I first got it I just needed a mult but this thing has become the center of every patch!"
"Initially found out about the BUFFJRVS on recommendation as I was browsing the usual boards. Got to talking with Ben and decided to give this sneakily powerful module a try, and I'm honestly blown away by the amount of utility in such a small footprint. Mutes, inversions, attenuation and cascading outputs that are further customizable via the rear panel. If I had a bigger case I'd get another. Really looking forward to the further developments at SOURCE:RE."
"I paired this with a CV Trinity to control some modulation and ending up staying up all night. Sent some LFOs into BUFFJRVS and had total control over my modulation intention. Intelligent and fun, this module surprised me with it's wondrous playability. Great idea turned into a great module. Truly proud to have one. As my eurorack system grows, I might just need another one pretty soon. Great job Ben."